Pernod Ricard - Consumer Engagement through Traceability Performance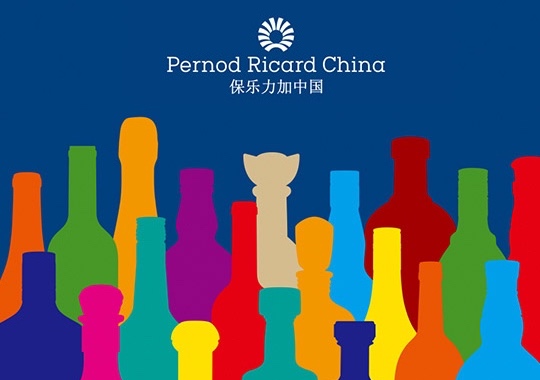 Pernod Ricard - Consumer Engagement through Traceability Performance
One of the world's most prolific beverage produces was facing a series of opportunities to upgrade its supply chain.
Pernod Ricard, whose entry into China has formed the most significant growth area for their business operations, set a very high bar for innovative practices in their industry. Digitization has been cited as one of the vital policy planks, enabling greater supervision and responsiveness over its international supply chain.
Among its 60 international brands, the company produces Absolute, Havana Club, Ballantine's, Chivas Regal, Clan Campbell, Mumm, Malibu, Pierre Jouet, and more. Its B2B model manages its product distribution to clubs, restaurants, bars, KTV, and retailers across China through a comprehensive and complex model.
The international alcohol manufacturer experienced a series of challenges regarding GMA (Grey Market Activities) and lack of insights into their consumer behaviors, hinging on the early stage of digital implementations. The company has ultimately sought to upgrade its supply chain capabilities through enhancing their traceability and supply management initiatives.
Traceability Initiatives
The goal was to upgrade their existing traceability solution to help fight activities of illicit or bootleg products and better understand their consumers' behaviors, which includes the following modules and schemes.
NGT Project
In collaboration with System in Motion, Pernod Ricard successfully launched an NGT (next-generation traceability) project using QR Code Platform as the core engine to replace the old traceability system which was difficult to maintain and produced unnecessary costs, ensuring the most outstanding possible efficiency and accuracy.
'Internet of Bottles'
Aptly named to reflect the efficiency of the bottling system, the IoB applied QR codes to enable product route-to-market visibility through the integrated usage of the traceability engine.
Customer and Product Authenticity Insights
The system's objective was to collect insights into their distribution channels and generate 'standard practices' for their distributors and wholesalers within the supply chain network. Customer insights are obtained leveraging the same system. Such data is used to be analyzed for improvements and to ensure a more cohesive consumer engagement strategy while closing the loop on their route-to-market data with consumer scans as the final data contribution point to the entire traceability cycle.
Deep Dives
The Challenge
The lack of full insights into their supply chain was hindering the rapid growth of their business in China, with GMA activities posing threats of lowering the overall profitability and fake products damaging the consumers' confidence with negative experience.
Pernod Ricard hence launched a legacy Traceability system to help fight such activities, but the old system was unable to integrate with their HQ systems. The systems silos not only made it inoperable but was also slow and inefficient. The consequence resulted in both accessibility, and resource usage with unnecessary high-cost license fees.
Infrastructure issues such as poor wi-fi connectivity during operations were creating additional pressure on the system. The legacy systems were also lacking comprehensive reporting mechanism with clean and actionable data from operations.
The challenge of operating with a not fully efficient process held back attempts towards gaining greater insight and operability in the already complex distribution model.
The Project
The objective was clear: to reinforce local development with a scalable and integrated solution.
The new solution would be able to help reduce costs, improve scalability and high availability, while catering to the needs of the complex distribution channel, and outlets.
System In Motion provided Pernod Ricard with a broad scope service of consulting, development, project management, and maintenance, assisting Pernod Ricard in their endeavor of modernizing their corporate information systems for achieving greater business results.
Part 1 – Traceability Authentication & Consumer Education
The goal was to ensure products are distributed through the right distributor to the right outlets and end consumers through authorized networks. Distributors and outlets are expected to participate in the shipments and collection scans to feed real-time information into the system.
The journey does not end there. Consumers contribute to a huge part of the data integrity of the full route-to-market journey. Providing consumer information of where the bottle he/she is holding in their hands came from was the first step of Pernod Ricard's consumer engagement approach, offering them the knowledge and window of confirmation on authentic Pernod Ricard products.
Another goal was to centralize all information into an integrated database in order to optimize the system availability for real-time data transfer. A local cloud-based server was implemented to retrieve data from the traceability system which was integrated with various HQ databases and local operation apps ensuring high speed and smooth user experience at the operation, management and reporting levels.
Part 2 – Further Consumer Engagement
Pernod Ricard aimed to further engage with their consumers through gamification with a revamped mobile mini program. System in Motion helped rebuild and revamp the consumer journey mini program, all the way from front end development and integration on traceability authentication journey to gamified consumer engagement, re-designing backend data structures and flows collaborating with more than 5 different vendors and service providers to ensure the optimized consumer experience and data collection initiatives.
Consumers are now not only able to go through the traceability journey learning where and when the bottle in their hands came from, but also are able to join time-based, brand-specific, location-sensitive campaigns that are unique but also flexible in various forms within the same mini program. It is ultimately redirected to Pernod Ricard's loyalty program or further engagements regarding educational information about the products.
The valuable consumer behaviors within the mini program are retrieved real-time for both operations and marketing analytics. In addition to the mini program, with the mission to provide more interesting options for consumers to engage, they launched NFC as one of the entry points in 2020. Consumers are able to choose between turning on their NFC sensor in their phones to tap on the NFC tag on the product, and simply scanning the QR code on the other side of the tag through their camera or WeChat to enter the engagement journeys.
The idea is to allow options for consumers who prefer other alternatives rather than using only WeChat environment. Pernod Ricard can review the statistics between web-based and mini program-based engagement based on the data System in Motion feed into their tracking system.
Results
Our Next Generation Traceability can support business better & faster,
says Sam Wang, IT Director of Pernod Ricard.
System in Motion was instrumental in boosting the operational efficiency of Pernod Ricard's operations. Notably, the company reduced the number of suppliers and systems by at least half, cutting the costs on redundant developments and unnecessary license fees, labor costs and applications.
A swift 2–3-month delivery period of various solutions has been highly valued with holistic technology expertise. System in Motion offered methodology and collaboration in partnership spirits to deliver projects that benefit business targets. The traceability system for Pernod Ricard helped gain insights on bottles' route-to-market and provide important information on the performance of their distribution business model It also provides supporting evidence to the investigation teams for identifying suspicious activities within their distribution networks. Insights into business processes had also become more transparent, ensuring internal stakeholders the access to obtain the information they need.
Consumer experience was greatly improved thanks to the mini program revamp on both UI and UX, eliminating excessive steps to take in the journeys.
Finally, Pernod Ricard was advised on their long-term strategic approach. Every aspect of the project included comprehensive consultation and advisory services to best leverage their solution and apply the best possible practices to their digital systems.
They positioned themselves as a long-term partner from the start. We are delighted with the professionalism with which they handle our projects, and the quality of their deliverables. I can only recommend them to other global companies, like us, looking for fit-to-need IT services for a strategic project.
We are Here to Help
At System in Motion, we are committed to building long-term solutions and solid foundations for your Information System. We can help you optimize your Information System, generating value for your business. Contact us for any inquiry.
Let's start and accelerate your digitalization
One project at a time, we can start your digitalization today, by building the foundation of your future strength.
Book a Meeting